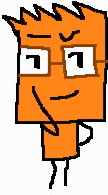 Orange Fronk
Name
Orange Fronk
Gender
Male
Age
22
Species
Fronk
Occupation
Being a nice cool Guy
Relatives
Blue Fronk's Home
Introduced In
Super Benson Snes (1500)
Last Appearance
Sam and Max GTA (2011)

Orange Fronk is Blue Fronk's Brother From Super Benson Snes. He also acts like Anna From Tekken.
Blue Fronk was Geting Really for the party but Orange Fronk ran in to his room, Kick in to the Glass,
orange fronk was midevil for a while, but now is used to this time.
Orange Fronk's Glasses look better like Fronk's Glasses.
Orange Fronk say Oh no my Glasses Just like Regular Show.
The Code of his Password is 1 1 1 2 2 3.
Orange Fronk, Green Fronk, Maizrpan and Benson, Did not Make it Just in WarioWare.